Pittsfield Auto Repair
Rock Shop
Tweed Valley Video

Summer Sports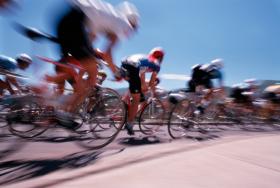 Vermont's Charity Bike Rides, Summer 2009
By VTSports Editor VTSports Editor
If you like to ride your bike, then Vermont is the place for you! Many weekends throughout the summer have long-distance, fully supported cycling events that raise money for worthy charities. Here is a summary of this summer's rides.
Read More
Death Race: an ultra-endurance test
PITTSFIELD – Crawling through mud beneath strands of barbed wire might sound hellish for most, but for the 54 participants of the Death Race, it's a true test of physical stamina and inner determination.

Now in its third year, the 24-hour event which began at 4 a.m. Saturday and concludes this morning, is the brainchild of Pittsfield resident Joe DeSena, whose farm north of town serves as both a base camp for the competitors and site of several of the 14 challenges along the 9.8-mile race route.

Each competitor brought a mountain bike, but for the first third of the event it is not ridden, but the frame is carried, along with a shovel, ax and the fruits of the first challenge: a tree stump. The race began with competitors crawling beneath barbed wire to a woodlot where they found a tree stump with their race bib attached. Read More
Preparing for Your First Triathlon
By Billie Munro Audia

Triathlons are multi-sport events that include swimming, cycling, and running. They are exhilarating, intense, and fun. If you are considering your first triathlon, chances are that you already swim, bike, or run, or perhaps a friend recently raved about his or her triathlon experience and you want to give it a go yourself. Whatever your motivation, your goal should be to cross the finish line smiling.
Read More
Slim Down/Spring Clean with Bikram Yoga
By thegingerkid

Welcome to heart of The Green Mountains where you will enjoy a weekend devoted purely to you! Partake in all of the weekend's adventures or just some, either way you will return to your normal life refreshed, rejuvenated, revitalized and ready to take on the world.
Focused around classic Bikram Yoga sessions where you will find yourself in three short days de-puffing, de-toxing, de-ageing, de-stressing, losing weight smiling more! Beyond the yoga room, we will also take in all that the lush Green Mountains and clear country air has to offer including: morning meditations, organic meals, hikes, swimming, relaxation, massage sessions, stimulating evening programs, great conversation & simply the spirit of rejuvenation. Read More