Pittsfield Auto Repair
Rock Shop
Tweed Valley Video

Flowers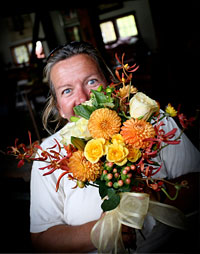 Trish has lived in Vermont for 32 years, originally she visited during a ski trip but never left…
Trish combines years of professional experience in the hospitality business along with a lifelong passion for gardening and flowers. This combination is ideal, as it has afforded her the know-how work perfectly with you to create the perfect floral arrangement for your dream wedding.
Trish enjoys using Vermont flowers in her arrangements but can also get any desired flower to create truly unique wedding settings in high profile Vermont wedding venues, such as Riverside Farm, the Amee Farm, the Swiss Farm Inn and the Casabella Inn.
We promise attention to every detail, providing personalized service to create an event that you and your guest will never forget.
Vermont flowers are for any occasion!
Weddings, Birthdays, Anniversaries or Parties, Trish the florists can help you realize your floral dreams. Trish specializes in Roses, Carnations, Calla Lilies, Birds of Paradise, Tulips and a variety of other popular flowers.
The best quality flowers and customer service is the key to our success!
Visit:
www.bloomforlife.com